Advertising with Albuquerque Tourism & Sightseeing Factory is a unique and highly-targeted way to supplement your marketing efforts. We are all over town; in fact, our custom Trolley acts as a billboard on wheels. Your message reaches a captive audience, one that is actively searching for things to see and do in Albuquerque. We promote ourselves as the best first thing to do in Albuquerque. Our guests pay approximately $35 for a ticket because they are not only interested in learning about all things Albuquerque, but also because they are looking for things to spend their money on while they are here.
We ask guests to consider our 120-minute hop-on, hop-off city tour an investment in the rest of their trip; an investment that will afford them the knowledge necessary to explore Albuquerque on their own. We are the only company in Albuquerque that offers a front-row seat to the best of ABQ. Invest your advertising dollars with ABQ Trolley Co. and position your business as a must-see in Albuquerque. If you have additional questions, please send us a message via our contact form.
---
"Advertising with AT&SF has been great for us. Business has improved noticeably and we enjoy visiting with the Trolley riders from all over the world. 
Working with the Trolley Guys has been a pleasure as they are friendly and reliable. We look forward to renewing each season."
-Ketmany Huss, General Manager - Gertrude Zachary Jewelry & Antiques
---
Click HERE for the 2018 AT&SF Advertising Kit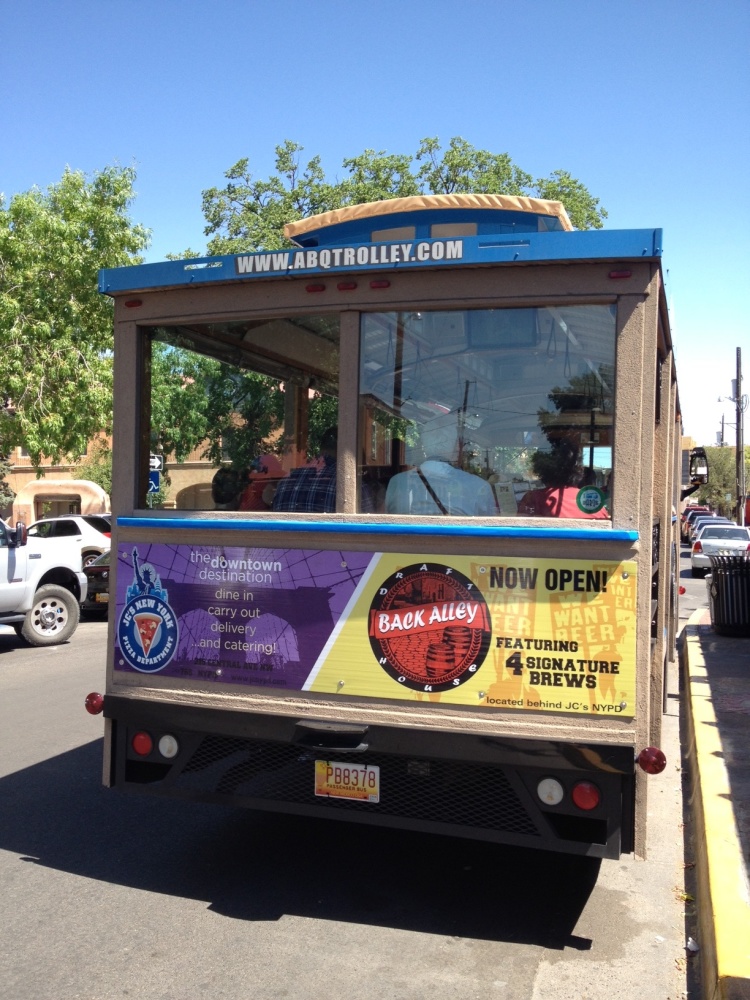 Photo: JC's NYPD & Back Alley Draft House advertisement located on the back panel of the Trolley.