Choose Showtime to Buy Tickets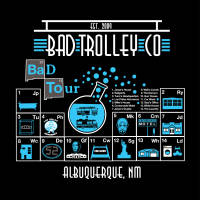 An AT&SF Production
The LUX: BaD Tour
Walter White & Jesse Pinkman's Albuquerque
Ages: All Ages Price: $65
This Event Has Ended
BaD Tour
Featured in USA Today, People magazine, LA Times, The Huffington Post, Travel Channel and more, the BaD Tour is the first ever Breaking Bad locations tour of Albuquerque. Breaking Bad is the Emmy-winning television series that was filmed in Albuquerque, New Mexico. 
BaD Tours take place on a luxury, climate controlled, 14-passenger Mercedes Sprinter, called The LUX. This premium tour experience includes 3.5 hours of locations from all 5 seasons of Breaking Bad (and a few from Better Call Saul).
There will be Breaking Bad trivia and great prizes from local Albuquerque businesses given out on the tour. The BaD Tour is approximately 38 miles long. A restroom break and complimentary drink will be provided approximately 1-hour into the tour at Twisters Grill (Los Pollos Hermanos). There will be a second restroom stop at the A1A Car Wash.
Featured Breaking Bad locations* on the BaD Tour include: Walter White's house & condo, Jesse Pinkman's house & duplex, Gus's house, The Car Wash, The Laundry, Saul Goodman's law office, Tuco's office, The Railyards, The Crossroads Motel, Los Pollos Hermanos and more.
Read what our riders have to say on TripAdvisor.com.
*The BaD Tour features the exterior of the locations; there will not be access to the inside of any private homes or businesses (excluding Los Pollos Hermanos).