Choose Showtime to Buy Tickets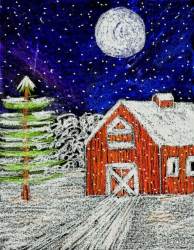 An AT&SF Production
ABQ Trolley Co: Christmas on the Farm
Presented in conjunction with Old Town Farm
Ages: All Ages Price: $15 - $25
This Event Has Ended
Join the Albuquerque Tourism & Sightseeing Factory (AT&SF) and ABQ Trolley Co. for the inaugural Christmas on the Farm. Board the Trolley at Hotel Albuquerque and sit back and enjoy as we transport you to a magical evening at Old Town Farm. 
Guests will disembark the Trolley outside the big red barn at Old Town Farm. Children will visit and take photos with Santa Claus. A FREE professional family photo with Santa is included for each guest (provided by Liz Lopez Photography). Guests will also enjoy story time and coloring with Mrs. Claus and a winter magic show by the one and only, Jack Frost! 
Space is limited to 34 seats per tour. Get your tickets early before they sell out. December evenings in Albuquerque can be quite brisk; please dress for 30 degree weather as we will be riding in an open sleigh, er Trolley (blankets, long underwear, mittens, knit caps, wool socks, etc. will be necessary). Most of the event takes place within the confines of the barn. Hot cocoa and coffee will be available for purchase at Old Town Farm along with other food items.
---
About Old Town Farm:
Old Town Farm is situated on 12 acres in one of the most historic settings in New Mexico. Although Albuquerque was settled in 1706, Pueblo Indians lived and farmed here long before the Spanish arrived as evidenced by the many pot shards found while digging post holes. The Duranes Lateral, which forms the western boundary of OTF, is reputedly the oldest registered ditch in North America.
NOTE: There are no refunds for tickets. Due to the high demand for these tickets, there will not be any refunds for anyone who misses the tour. By the time the tours are upon us, we've turned down many riders who are interested in joining us because the tours are "sold out." Having a rider cancel the week of or the day of does not give us enough time to resell that ticket. Tickets are fully transferable. Thank you for your understanding.